Overview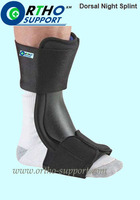 The Achilles tendon is the confluence of the independent tendons of the gastrocnemius and soleus, which fuse to become the Achilles tendon approximately 5 to 6 cm proximal to its insertion on the posterior surface of the calcaneus. The gastrocnemius and soleus muscles, via the Achilles tendon, function as the chief plantarflexors of the ankle joint. This musculotendinous unit provides the primary propulsive force for walking, running, and jumping. The normal Achilles tendon can withstand repetitive loads near its ultimate tensile strength, which approach 6 to 8 times body weight.
Causes
As with any muscle or tendon in the body, the Achilles tendon can be torn if there is a high force or stress on it. This can happen with activities which involve a forceful push off with the foot, for example, in football, running, basketball, diving, and tennis. The push off movement uses a strong contraction of the calf muscles which can stress the Achilles tendon too much. The Achilles tendon can also be damaged by injuries such as falls, if the foot is suddenly forced into an upward-pointing position, this movement stretches the tendon. Another possible injury is a deep cut at the back of the ankle, which might go into the tendon. Sometimes the Achilles tendon is weak, making it more prone to rupture. Factors that weaken the Achilles tendon are as follows. Corticosteroid medication (such as prednisolone) - mainly if it is used as long-term treatment rather than a short course. Corticosteroid injection near the Achilles tendon. Certain rare medical conditions, such as Cushing's syndrome, where the body makes too much of its own corticosteroid hormones. Increasing age. Tendonitis (inflammation) of the Achilles tendon. Other medical conditions which can make the tendon more prone to rupture; for example, rheumatoid arthritis, gout and systemic lupus erythematosus (SLE), lupus. Certain antibiotic medicines may slightly increase the risk of having an Achilles tendon rupture. These are the quinolone antibiotics such as ciprofloxacin and ofloxacin. The risk of having an Achilles tendon rupture with these antibiotics is actually very low, and mainly applies if you are also taking corticosteroid medication or are over the age of about 60.
Symptoms
Symptoms of an Achilles tendon injury are as follows. Pain along the back of your foot and above your heel, especially when stretching your ankle or standing on your toes; with tendinitis, pain may be mild and worsen gradually. If you rupture the tendon, pain can be abrupt and severe. Tenderness. Swelling. Stiffness. Hearing a snapping or popping noise during the injury. Difficulty flexing your foot or pointing your toes (in complete tears of the tendon).
Diagnosis
The actual area of an Achilles tendon rupture cannot be seen on x-ray. Therefore, although x-rays are often done to rule out bony injuries in individuals with an Achilles tendon rupture these x-rays are usually normal. Diagnostic ultrasound of the tendon can be performed to assess the integrity of the tendon. Other diagnostic tests, such as MRI's, may also be required in difficult cases.
Non Surgical Treatment
This condition should be diagnosed and treated as soon as possible, because prompt treatment probably improves recovery. You may need to be referred urgently to see a doctor in an orthopaedic department or accident and emergency department. Meanwhile, if a ruptured Achilles tendon is suspected, you should not put any weight on that foot, so do not walk on it at all.Treatment options for an Achilles tendon rupture include surgical and non-surgical approaches. The decision of whether to proceed with surgery or non-surgical treatment is based on the severity of the rupture and the patient?s health status and activity level. Non-surgical treatment, which is generally associated with a higher rate of re-rupture, is selected for minor ruptures, less active patients, and those with medical conditions that prevent them from undergoing surgery. Non-surgical treatment involves use of a cast, walking boot, or brace to restrict motion and allow the torn tendon to heal.
Surgical Treatment
The goal of surgery is to realign the two ends of the ruptured tendon to allow healing. There are multiple techniques to accomplish this goal that will vary from surgeon to surgeon. Recovery from this injury is usually very successful with return to full function in approximately 6 months. Post operatively casting is required with the use of crutches or other means to remain non-weightbearing for 4-8 weeks. This is followed by a course of physical therapy. Partial rupture may or may not require surgical intervention depending on the extent of injury but cast immobilization is a common requirement.